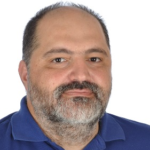 I am Artemios Vogiatzis. It is easier to just call me "Art".
My academic credentials include a Ph.D. in Computer Engineering, an M.Sc. and a B.Sc. in Computer Science and a first B.Sc. in Mathematics. I am a Senior Member of both ACM and IEEE.
I have mentored and advised early-career researchers and I have worked in interdisciplinary, multidisciplinary, multicultural, and international teams under different capacities and roles, ranging from undergraduate trainee to tenured principal researcher and from freelance developer to senior IT staff for a large organization.
I led and co-led innovative R&D proposals and projects securing institutional funding in the range of millions of euro and also business plans for successful technology startups. And co-founded a failed one too.
Most important of all: I had the pleasure and honor to collaborate with exceptional people and help them succeed in academia, industry, and entrepreneurship.
Last but not least, I am a Certified Coach by the Coach Training Alliance.